 
HiBy R3
Short description
For the little money the Hiby R3 is going for, you get a lot in return. Don't expect an audiophile grade analytic DAP that's as precise as the SP1000 but think fun, impact, rhythm ad musicality above all. To me it's the perfect DAP for on the go
Designed For the Purest Sound Experience
The World's Smallest O nline Streaming Music Player, Monstrous Sound Packed Into a Tiny Body.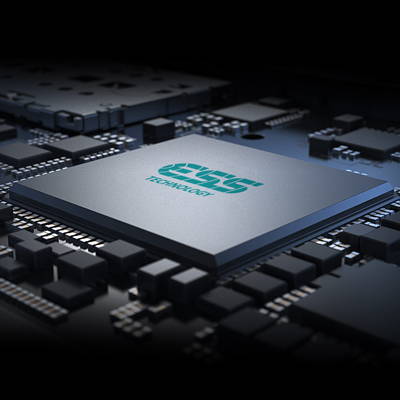 Top of the Line Audio Components
Uses a premium ESS ES9028Q2M DAC chip, HBC3000 DSD256 capable audio controller and 8 panasonic hi-polymer/tantalum POSCAP capacitors. HiBy R3 delivers an SNR of up to 117dB and THD+N down to 0.002%, a hi-res audio performance that captures the depth and breadth of each note.
Smallest and Lightest Tidal/Qobuz Online Music Library Player
The R3 can be connected to the Tidal and Qobuz ONLINE music library via Wi-Fi, a genuine wireless experience. Many more digital media will make use of API which is supported R3 to expand music sharing with other music apps (more streaming services may come).
Mage Sound 8-Ball Tuning
MSEB is a combination of multiple algorithms based on parametric equalizer (PEQ) and sound field adjustments to create the most satisfying sound for you.
Endless Possibilites of Wireless Streaming Music
High Speed Wi-Fi, DLNA and AirPlay Support, Enjoy Hi-Fi Streaming Music Like Never Before.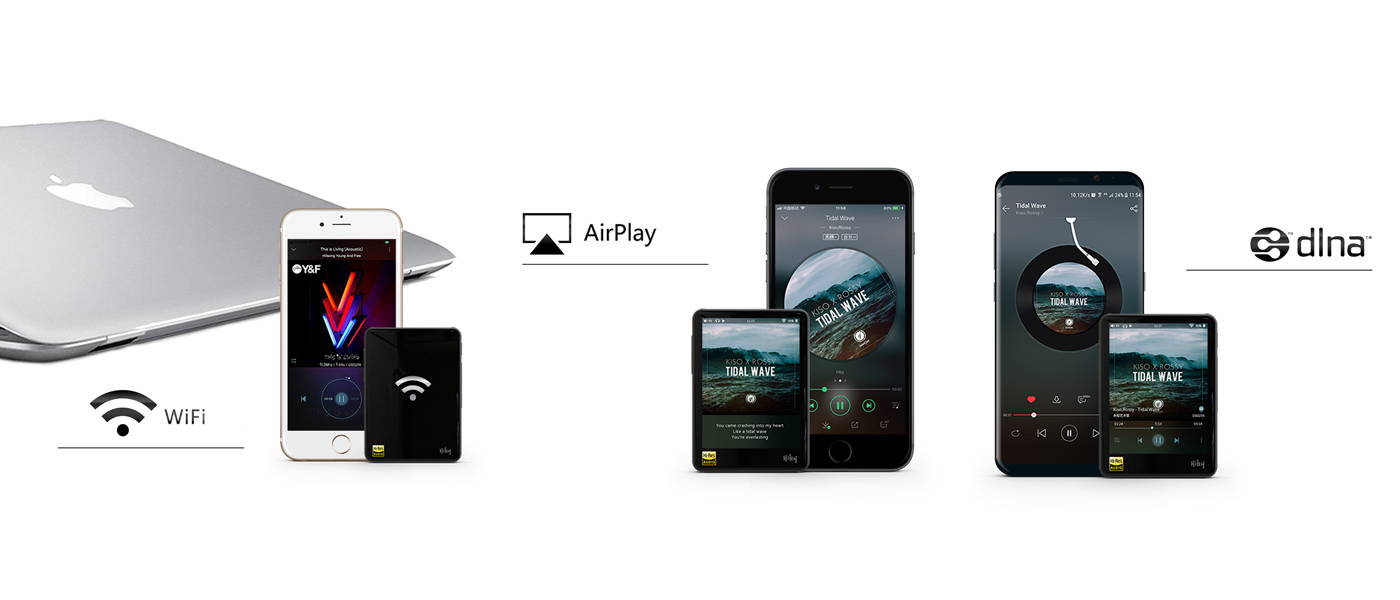 Bi-Directional Bluetooth Connectivity
By featuring Bluetooth 4.1, aptX , HiBy R3 is able to deliver Hi-Res audio quality over Bluetooth; T he audio coding technology of LDAC allows you to enjoy high quality wireless audio via Bluetooth on HiBy R3 ; Another connectivity option is the HiBy Link, which allows you to play Hi-Res music stored on the R3 via remote control on your smartphone.
Master Quality Authenticated
MQA stands for Master Quality Authenticated - an audio technology that makes original Hi-Res audio becomes reality. R3 can guarantees the purest sound quality with MQA. With latest firmware update will enable the HiBy R3 to have MQA compatibility.
HiBy OS with Up to 2TB Expandable Storage
R3's HiBy OS reflects our decades of experience in software development. With the highest runtime permissions, multithreaded man-machine interaction, pure audio experience is all yours. HiBy R3 does not have any internal storage, but it comes with a micro-SD card slot for expandable storage that supports up to 2TB. Big enough to carry your entire music library.
Outstanding Power Management
With its 1600mAh high-capacity battery, R3 is good for up to 11 hours of playtime and more than 60 days of standby time.
Pocket Sized Full Touch Screen
R3 is a Portable Hi-Fi Lossless Music Player. With its Impressive Arc Body, It Offers the Best Hi-Fi Music Experience Whether You're at Home or On-the-Go.
Easy to Grab Pocket-size
Compact and Lightweight
3.2'' IPS LCD Touch Screen
&
Physical Control Buttons
Supports Diverse Headsets and Devices
R3 features a standard 3.5mm headphone jack (shared LO output) and a 2.5mm balanced headphone jack, which enables the R3 able to output its Hi-Fi audio to a wide variety of devices.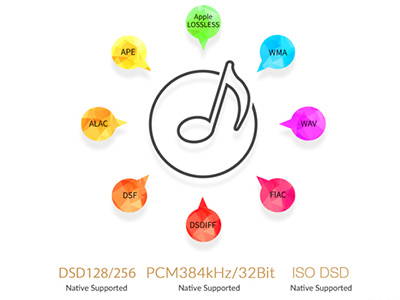 Supports Most Hi-Res Formats
The HiBy R3 supports most Hi-Res lossless formats, including FLAC, APE, WMA, WAV, AIFF, DSD IOS, DFF and OGG. Native support for DSD256, PCM up to 384Khz/32bit, delivers lifelike audio and breathtaking instances of sound.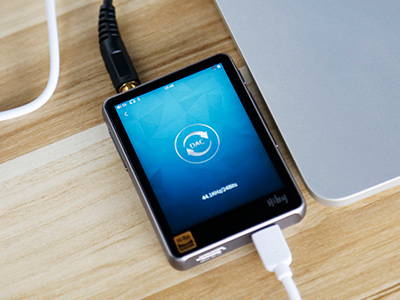 Bi-direction USB Connectivity
A bi-directional USB DAC interface allows you to use the R3 as a ultra high quality USB audio dongle for your smartphone or as a digital audio source for other devices.
In The Box
1. HiBy R3
2. White Plastic Case
3. USB Type C Cable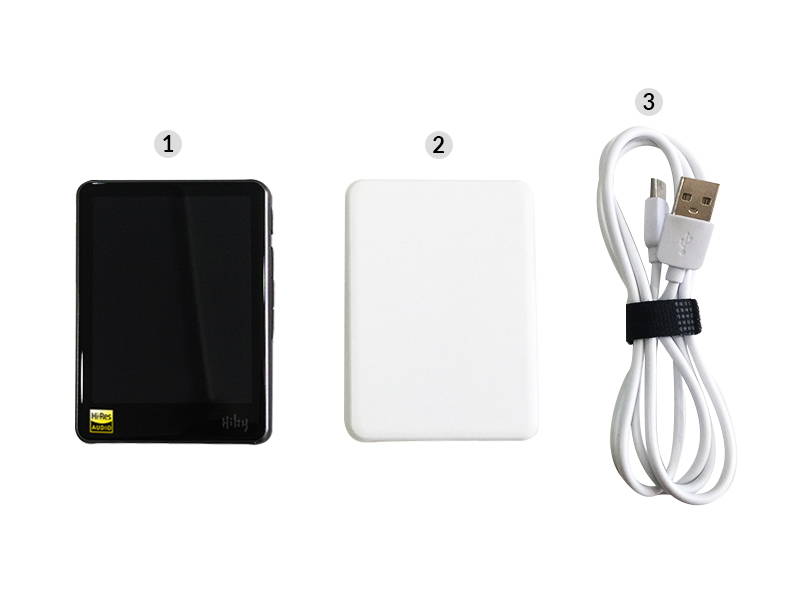 DAC

ES9028Q2M

Bluetooth

LDAC, Bluetooth V4.1,aptX supported

Display Size

3.2 inches full-touch screen

Battery

Internal 1600 mAh Li-polymer battery

Resolution

360*480

Internal Storage

None

Line Out

3.5mm LO

CPU Model

Ingenic X1000E

WIFI

2.4GHz

Display Type

IPS

Buttons

Side buttons + touchscreen

Balanced Output

Supported (2.5mm balanced headphone jack)

Charging Time

140 mins

Storage Expansion type

Micro SD Card

Maximum Storage Expansion

2TB

Crystal Oscillators

45.1584MHz 49.152MHz

Maximum Song Qty

20000 songs

Drive Ability

8-100Ω (Recommended)

UI

HiBy OS - Linux Version

USB Interface

USB Type C, Two-way USB DAC

Headphone Output(PO)

3.5mm standard headphone output jack

DSD Support

DSD 256

PCM Support

384kHz/32Bit

Gain Control

Low/High

USB Connection

USB Type C (QC3.0/ data transfer)

Charging Interface

USB Type C

Body Material

316L High-impact Stainless steel/ Aluminium Alloy

USB power adapter

DC 5V/2.5A or 9V/1.5A

Equalizer

10-band EQ(±12dB), 8 presets + custom preset

System Reboot

Hold power button

Firmware Upgrade

Supported via SD card(Only FAT32 system) or via internet

Battery life

10 hours

Product Dimensions

82 X 61 X 13 mm (3.23 X 2.4 X 0.51 inches)

Lossless Format Support

DST ISO

Lossy compression

MP3, AAC, WMA, OGG...

Data Transfer

USB 2.0 High speed

Digital Filter

Three Modes: Fast Roll-Off Linear Phase / Fast Roll-Off Minimum Phase / Slow Roll-Off Linear Phase

Specs

Headphone out specifications (2.5mm headphone out jack)

Specs

Headphone out specifications (3.5mm headphone out jack)

Specs

Line out specifications (3.5mm headphone out jack)

Output Power

112mW+112mW

Output Power

56mW+56mW

Output Power

1.1Vrms

Frequency Response

±3dB 20Hz~40KHz

Frequency Response

±3dB 20Hz~40KHz

SNR

-118db

SNR

-116db

SNR

-115db

Channel Separation

68db

Channel Separation

86db

THD + Noise

0.003%

THD + Noise

0.005%
Ultraportable Touchscreen Hi-Fi Network Music Player
Features Full Touch Screen, LDAC, WiFi, DLNA, Airplay, AptX, Tidal/Qobuz online music library, ES9028Q2M DAC, Native DSD. Enjoy Hi-Fi Music Wherever You Are.
15 other products in the same category:
Customers who bought this product also bought: