תיאור
Crosby, Young, Gifted and, er, not Black…John Scott hangs out with M2Tech's Rockstar separates and finds himself helpless to resist their charms.
Italian manufacturer M2Tech's Rockstar series of audio components consists of the Young MkIII DAC/preamp, Nash phono preamp, Crosby power amp, Joplin MkII DAC/phono, and Van Der Graaf MkII power supply.
When I was originally asked to review the Crosby, Young and Van der Graaf units, Bill Leigh of UK distributors Auden Distribution explained that he would be arranging for a set of equipment to be shipped over from Italy to me.  I prefer to carry out my reviews without doing too much research, or reading other people's opinions, beforehand, so, other than a quick glimpse of a photograph, I had no preconceptions of what to expect when the kit arrived.  The result of this was that when I got my hands on the units a few weeks later, I was confronted with three small cardboard boxes – I had assumed the units would be full-sized but that was clearly not the case.
UNBOXING, CONSTRUCTION AND APPEARANCE 
The Crosby, Young, and Van der Graafs arrived, each in their own snug cardboard packing box and were accompanied by the requisite power cords and interconnects along with a remote control (more on this later).  Measuring just 200x200x50mm each, the Crosby(first pic), Young (second pic) and Van der Graaf (third pic)are elegantly constructed from a matt aluminium chassis and possibly Perspex front piece; the Young has an OLED display, power button and volume knob which doubles as an input and other functions selector whereas the Crosby and Van der Graff panels are relatively bare, with no more than a few LEDs (hopefully, you will only ever see one as the others indicate overloads) on the Crosby and a selection of small buttons and LEDs adorning the front of the Van der Graaf.
SET UP
I decided to initially audition the Crosby and Young as a duo, rather than pairing the Young with the Van der Graaf straight off the bat; as standard, the Young is powered by a 15v wall wart.  The rear panel of the Young provides a variety of inputs: Toslink, S/PDIF, USB 2.0 and AES/EBU cater for digital signals while a pair of RCA inputs handles an analogue source, if required.  Additionally, the Young is Bluetooth compatible, allowing streaming from portable devices for added flexibility.  Outputs come in one flavour only – balanced XLR – although a pair of RCA adaptors is supplied.
The rear panel of the Crosby is a fairly straightforward affair: power switch and socket, choice of XLR or RCA inputs and a pair of speaker outputs. One small switch toggles between balanced or single-ended input and another enables two Crosbys to be used as a bridged pair.
I opted initially to bypass the Allo Boss DAC in my Raspberry Pi streamer and connect the Pi straight to the Young via USB cable.  I then used the XLR/RCA converters to connect the Young to the Crosby.  The Young can be controlled either via its front panel, an Android app or the supplied remote control.  Apps and remote controls are both things that I am quite fussy about; I expect their quality to match that of the products they support.  In this instance I found both the app and the remote to be satisfactory, allowing the full functionality of the Young to be easily accessed.  The remote, although a fairly lightweight plastic affair, was well laid out and responsive and was M2Tech branded which was a nice touch –  not the best remote I have seen but by no means the worst.
SOUND QUALITY
If I was surprised and slightly disappointed by the size of these little boxes when they arrived -and I was – those feelings turned to very pleasantly surprised then highly delighted once I started to pass some music through them.
I can't imagine why but as I powered up the Young and Crosby units I was in the mood for a bit of lumberjack-shirted protogrunge.  The one-two punch of Cortez The Killer and Powderfinger from Neil Young's live album Weld really hit the spot.  I have harbored a suspicion that Neil's cheap and dirty distorted guitar sound is probably the product of thousands of dollars of investment, and the Young/Crosby combo lays bare Old Black's overdrive in all its carefully sculpted, ragged glory.  The Crazy Horse rhythm section is present and correct, harmony vocals still easily discernible despite the six string squall.
Like its namesake, the Young is nothing if not versatile, switching with ease between a variety of different "genres".  PCM is supported at 16 through 32 bits at frequency rates from 44.1 to 384 kHz; DSD is catered for from 64x to 256x and MQA is also supported, as is Bluetooth.  I'm not a fan of adding a laptop or desktop PC into my Hifi setup but I plugged my laptop and connected it to the Young via USB to try out the DAC's MQA capabilities.
Giving Your Song from Elton John's debut album a spin (or more accurately, a stream) in MQA, DSD and CD-quality FLAC, both the MQA and DSD versions were clearly preferable to the FLAC, offering a more detailed and finessed performance.  Differences between MQA and DSD were less easy to determine; as far as Your Song was concerned, DSD scored a narrow win but further comparisons (Eagles' Hotel California and Eric Clapton and B.B. King's Key To The Highway) came out in MQA's favour.  You pay your money and take your choice; MQA is not for me at present – if Tidal can deliver it without the need for their desktop interface, I'll reconsider – but it is good to know that M2Tech's Young DAC can deliver it if you want it.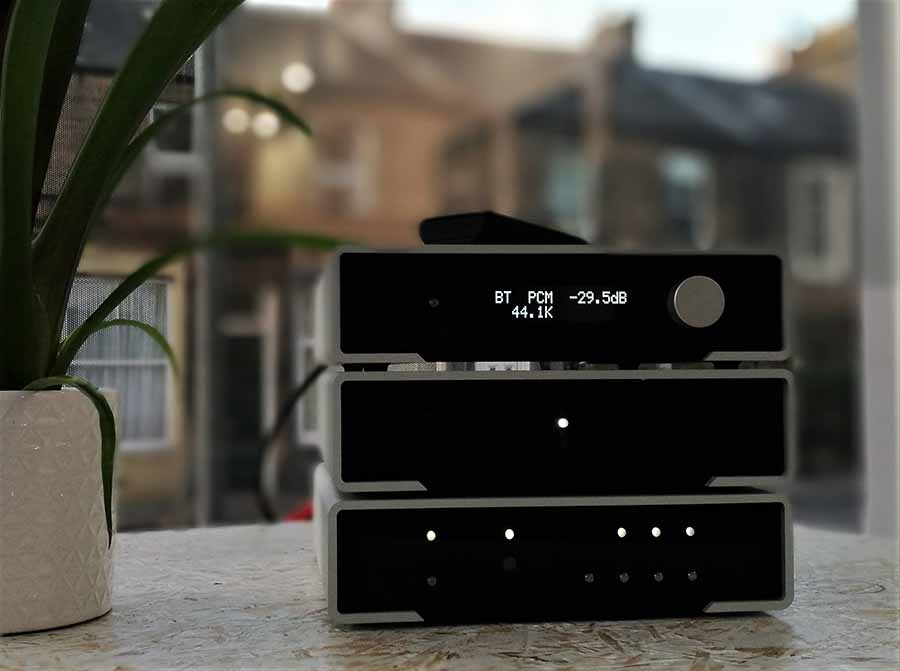 Time to bring the Van der Graaf into play.  Like me, you are probably wondering why this unit wasn't christened the Stills.  I can only guess that the progtastic idea of a Van der Graaf (power) Generator was deemed more appealing.  Upgrading the power supply to the Young brings all the anticipated benefits: a quieter background and more focused soundstage.  Simply put, the Van der Graaf lets the Young DAC/preamp perform to the best of its capabilities.  The Van der Graaf can power up to four M2Tech devices and, powering them up and down in whatever sequence you prefer.    Fortunately, if your budget doesn't stretch to the Van der Graaf you will be far from disappointed with the Young's performance in its standard form.
CONCLUSION
In essence, M2Tech's Young, Crosby, and Van der Graaf combo forms a high end system that you can carry home on the bus.  Size, as they say, isn't everything and in this case it is certainly  true.  The sound quality of these little boxes is reflected in their price. This isn't a cheap alternative to a full-sized system – the three units won't give you much change out of £3,400 – but unless you measure value for money in terms of hifi rack real estate, they are well worth considering against other products at a similar price point.  I'd certainly be happy to live with them.
AT A GLANCE 
Build Quality: These are well-made, solid little units.  Visually, they are attractive in an understatedly stylish kind of way.
Sound Quality: It's impossible not to be impressed by the sound that this set of little boxes can produce.  Even without the addition of the upgraded power supply, the Crosby and Young are capable of truly excellent results.
Value for Money: Physically , you may not get a lot for your money but in terms of sound quality and appearance, the Crosby, Young and Van der Graaf system represents really good value for money.
Pros: Full-size performance from  pint-sized boxes.
Supports an excellent range of audio formats.
Cons: Let's be honest, their size will be an immediate turn-off for some potential purchasers.  For those that can see past this, it's all good.