Description
AUNE X5S 8TH ANNIVERSARY
High Definition Audio File Reader ES9038Q2M Bluetooth 5.0 FPGA 32bit 768kHz DSD512 Black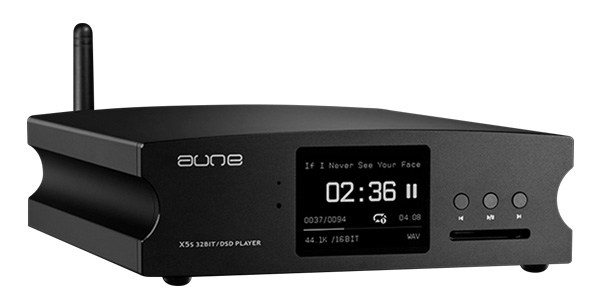 The X5s 8Th Anniversary Edition is the fourth generation of Aune X5 digital file player. It embeds a Freescale 600M processor. It is also capable of handling high resolution streams up to 32bit 768kHz PCM and DSD512. It also adds support for an external clock.
The reading of files is done via SD card thanks to a slot positioned in front and thus easily accessible. It is also possible to connect a USB storage device such as a hard disk.
The digital/analog conversion stage, particularly powerful, is based on an excellent ESS ES9038Q2M DAC chip, a model that has proven itself in many HiFi devices. This one ensures a precise, rich and dynamic restitution.
Bluetooth 5.0
The X5s 8Th Anniversary also features a Bluetooth 5.0 CSR8675 receiver chip, supporting the high-resolution aptX HD transmission codec. The player can therefore be easily connected to a smartphone in order to stream music remotely.
It can also be used as a Bluetooth transmitter. When files are played from an SD card or USB storage device, the audio streams can be transmitted directly to Bluetooth headphones or speakers.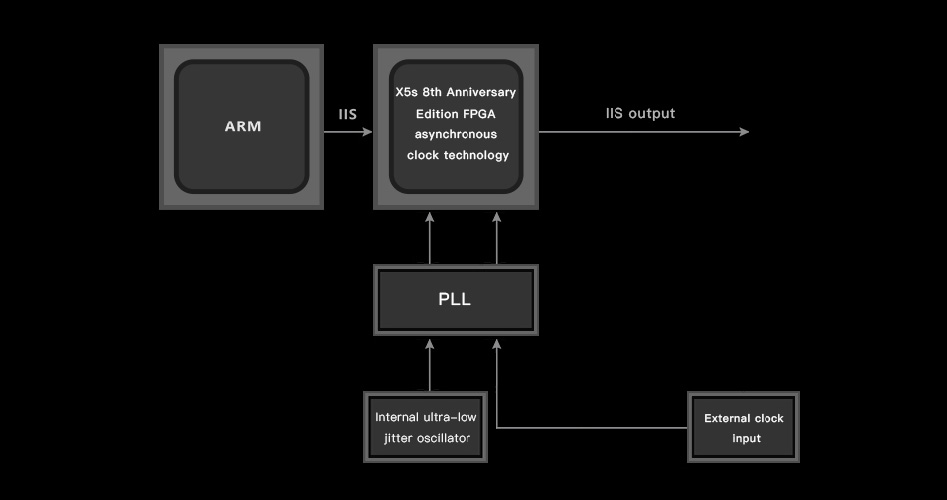 Compatible with an external clock
Aune's file reader integrates an ultra-low jitter PLL and FPGA but also allows the connection of an external clock to achieve an even lower jitter level.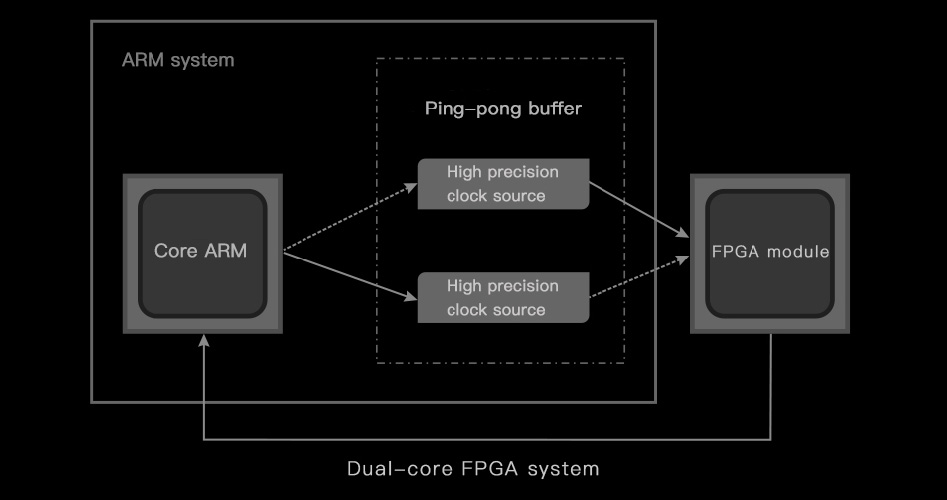 7 Filters
In order to adapt to your listening preferences and your audio system, the X5s 8Th Anniversary offers 7 filters for its line output.
Asynchronous FPGA
The architecture of the X5s 8Th Anniversary includes an ARM processor that decodes the audio files and then transmits the signal to the FPGA, combined with an ultra-low jitter clock to regenerate the digital signals. This structure allows to offer a particularly detailed and rich sound.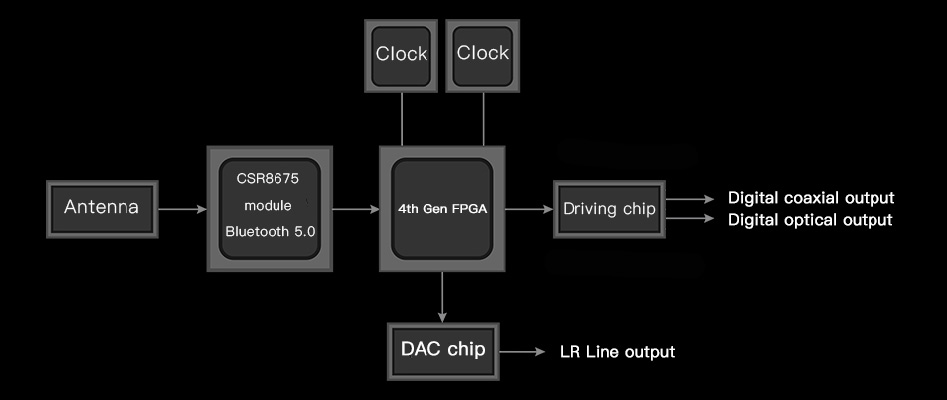 Isolated digital outputs
The digital outputs of the Aune X5s 8TH Anniversary use a professional grade, fully isolated digital transformer to deliver extremely pure, interference-free digital signals.

Technical characteristics
SPECIFICATIONS
Product type
File reader
Inputs
1x SD Card slot
1x USB-A (Host)
Bluetooth 5.0
Outputs
1x Coaxial
1x Optical Toslink
1x AES
1x Stereo RCA
Bluetooth 5.0
DAC Chip
ESS ES9038Q2M
THD+N (Digital outputs)
-98.25dB @ 16bit/44.1kHz, 1kHz/0dB
-137.8dB @ 24bit/96kHz, 1kHz/0dB
-141dB @ 24bit/192kHz, 1kHz/0dB
Jitter
237.6ps
Output level (RCA)
2Vrms
Frequency response (RCA)
20Hz-20kHz ±0.5dB
Noise (RCA)
5.4µV
THD+N (RCA)
-101dB
Supported file formats
WAV : 16/24/32bit – 44.1/48/88.2/96/176.4/192/384kHz
FLAC : 16/24/32bit – 44.1/48/88.2/96/176.4/192/384kHz
DSD : DSF/DFF DSD64-256 / SACD-ISO
APE : 16bit / 44.1kHz
ALAC
AAC
MP3
GENERAL
Housing material
Aluminum
Dimensions
145 x 171 x 45mm
Color
Black
Package
1x Aune X5s 8Th Anniversary
1x Power supply
1x Remote control